Hey there my lovelies & happy weekend! I know I am being typically British in my going on with the weather but damn it's depressing isn't it? It's enough to make one wail in despair, especially when ones plans fall through because of it. But hey, I'll look on the positive side of things & be grateful for the extra day's bed rest of which is currently going splendidly. Just had the most amazing nap, probably the most exciting thing that will occur today but aren't nap times bloomin awesome?! Excited for tomorrow as the matey & I will be heading off for a murder mystery break at Down Hall Country House Hotel in Hertfordshire! Cannot wait, never been to one before but its something we've always wanted to do so looking forward to it! :D
Whenever I'm out shopping & a lovely big Topshop comes into my line of vision, I immediately do an about turn & speed walk my way into that glorious land. But instead of heading towards the clothes & jewellery, of which I AM a fan, I promise to visit those parts later & make a beeline straight for the makeup section *cue gasps of shock* I have always loved the look of Topshop's make up range & heard many good things, but sadly the one in my town doesn't stock any! So the last time I visited one of the bigger stores, I had a little browse around & picked up a few goodies!
First I picked up this divine looking highlighter powder in Sunbeam (RRP £9) which is such a pretty pale golden shade & unlike any highlighter I own. It is extremely pigmented & when blended in on top of the cheekbones, gives such a pretty glow & I can imagine using it on the eyes as well. I'm actually wearing it today & love it! And the size of it is pretty immense too so can see it lasting yonks.
Next up is one of Topshops now pretty infamous cream blushes. After seeing these pretty's pop up on many blogs I've been itching to try em myself, having never tried cream blush's before, so picking one up was inevitable! The shade I went for was Flush (RRP £6) which is a lovely bright pink.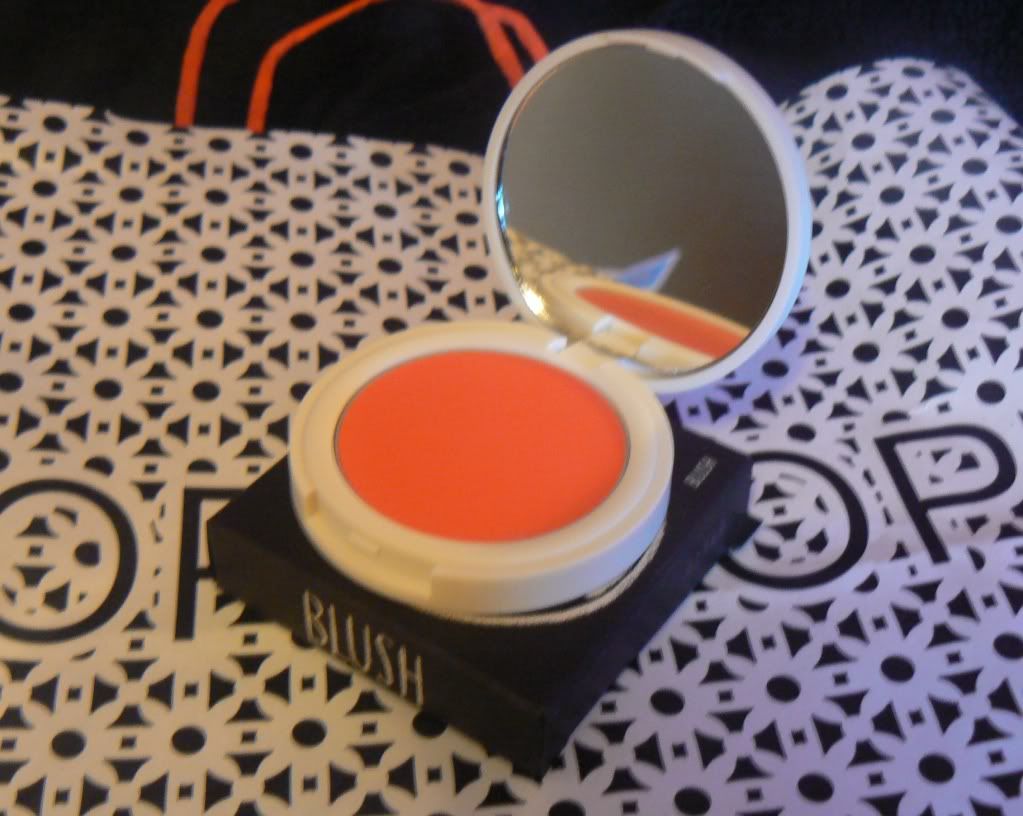 As you can see it does look a bit blooming terrifying in the pan! Well to me anyways ;) However once dotted on the cheeks & blended in it actually gives the most lovely rosy glow without making you look like a cabbage patch kid at all! The cream to powder finish is lovely too & I adore the colour, I've been wearing it every day for work makeup & now I want ALL the shades!
You know me well by now & no make-up haul is complete without a polish purchase! I have to say the polish stand in Topshop is just mesmerizing, there are so many divine polish's in the range, mighty impressed (RRP £6) After standing there like a dodo, ogling the beautiful sight I decided to take home with me the gorguz looking Hidden Treasure duo chrome that I've wanted to try forever as well as the pretty looking crackle Frosty, a divine rose gold like colour that I think will look gorg over a baby pink? Can't wait to try!
Before leaving I made one last quick impulse purchase when my eye caught these mini Dr Bronners liquid & hard soaps, a product that has had me intrigued, how could it not? Look at that awesome packaging!
These interesting looking magic soaps come in a wide range of scents/flavours(?) the two I picked being Peppermint & Rose & are said to have a grand total of 18 uses, some downright strange to say the least! To name but a few, you can use these multi-purpose soaps to clean surfaces, wash hair, brush your teeth, as a shower gel & even in laundry! Like I said…weird. Haha! However I have also heard they make fab cleaners for makeup brushes? So I think I'll be using them for that, but if any of you lovelies have tried this interesting product & found any other great uses for them, I would love to know!
Thanks as always for reading dolls! Have you tried Topshop's makeup range or Dr Bronners products? What are your favorites? Any recs?